Our range of Architectural Office Signs are designed for the discerning customer who wants to maintain a premium look and feel throughout their office space. These door room signs are manufactured using the highest quality materials including laser engraved or digitally printed marine grade stainless steel. They come supplied with a choice of fitting methods, either self adhesive backing or mounted on acrylic with two stand offs and screws necessary for fitting.
A standard range is offered by Viking Signs to purchase online at:

The range includes the following popular office signs:
* Toilets Signs
* Ladies Signs
* Gents Signs
* Cloakroom Signs
* Reception Signs
* Enquiries Signs
* Private Signs
* Office Signs
* Staff only Signs
* Please ring for attention signs
* Boardroom Signs
* Meeting Room Signs
* Conference Room Signs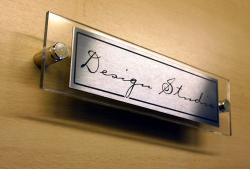 If the sign you're looking for isn't in this range or you'd like a custom logo added (now including colour images) – please don't hesitate to contact us and we'd be happy to quote for a custom sign or range of signs.
We're also able to produce door signs with sliding free/engaged or occupied/available panels.