Traffolyte Labels & Tags
As well as complete machine switch / control panels, we can produce traffolyte or LaserMax engraved labels. These can be added to your machine or product to give a durable, professional, high quality finish.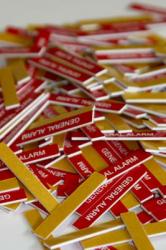 We can engrave 1, 10 or 10000 sets of parts either with an identical design or incremental elements such as serial numbers.