You could be attracting new customers to your business with a simple pavement sign ! Where a 'permanent' or 'fixed' sign isn't possible – a pavement sign can make all the difference. High quality finish and robust construction characterise all our products. These signs can be placed in a prominent position during the day and removed at night – or some customers even choose to leave them working for their business 24/7 if the risk of malicious damage is considered low and they don't cause an obstruction.
A Frame Signs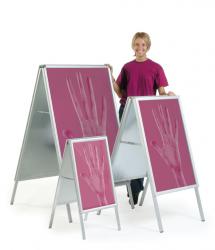 A Frame signs are available in a range of sizes to hold A2, A1 and A0 size posters and prints. The optional snap action front allows rapid changing of posters. These A Frames signs are constructed from aluminium framework, with a heavy duty galvanised steel backing and fittings which makes them suitable for all weather exterior use.
Breezer Swing signs
Breezer panel pavement swing signs come with a high impact panel to which graphics can be applied and a heavy duty PVC base.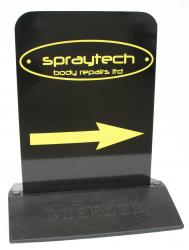 Viking Signs offers a wide range of pavement signs, swing signs and A boards all of which can have your text or graphics added in a choice of colours, allowing you to incorporate your business's logo and graphics for a short term promotion or a permanent way to drive that all important 'passing trade' to your business.