Commemorative Plaques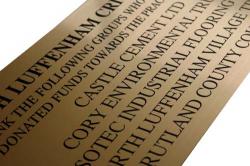 Using both of our engraving methods we produce tasteful, long-lasting, & distinctive commemorative plaques for a variety of purposes. Potential uses for commemorative plaques could include: building openings, ground breaking, memorials, wedding anniversaries, celebrations, sporting records, pet memorials, birthdays, or scholastic achievements.
To suit particular customer requirements these can be produced in a huge variety of materials:
modern, timeless & low-maintenance marine grade stainless steel
traditional brass
Better Than Brass – a material that looks as good as traditional brass, but will not tarnish
anodised aluminium
coloured laminates
cost-effective metal effect laminates
Please refer to our materials section for more details on any of these commemorative plaque options.