Viking Signs is an engineering firm that specialises in sign manufacture and industrial engraving.
We offer a wide range of engraving services including control panels, engraved labels and safety labels.

"Speed is one thing, but we need accuracy and efficiency too – and we get it."
Customer: Lee Hewerdine Metron-Eledyne
Product – Laser Engraved Machine Control Panels
We leverage our manufacturing background to solve problems for our clients and ensure your product is:
We use lean manufacturing processes and principles to allow us to manufacture most products on demand, even same day for items in small batches.
This can include customisation.
For larger projects we will work with you to provide lead times and delivery estimates you can rely on.
When you work with us we will provide you with engineering drawings to confirm artwork and specification.  At this point your project will enter our Poka Yoke (Japanese for Mistake Proof) quality system.  We control materials, artwork and process to ensure that you get what you order,  every time.
Our quality systems and engineering process means that we can offer better value for money than signs produced with a more traditional approach.  Our specification and process control also means that we can price accurately so you can be comfortable that we will deliver on budget. Please ask us for a quote and we will be happy to talk through costings.
Industrial Engraving Services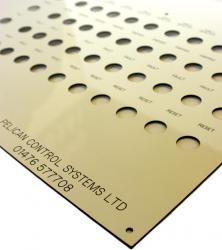 Products
Asset Labels
Components
Control Panels
Switch Plates
Serial Labels
Scales and Dials
Safety Labels
Electrical Labels
Mimics
Materials & Processes
Laser Engraving
Mechanical Engraving
Direct print on to Metal
Marine Grade Stainless Steel
Brass
Traffolyte
Plastics / Acrylic
Chemical Etching
Sub-Surface Anoprinting