Meeting Room Signs
Stainless Steel and Aluminium Meeting Room Signs
[one_half]
[/one_half][one_half_last]
We provide a range of meeting room signs in Stainless Steel, aluminium and acrylic.  These signs are easy to fit and provide a sophisticated and contemporary look.
We have a range of styles and fonts ready to order online:
Boardroom Signs
Conference Room Signs
Meeting Room Signs
If you would like a custom design, unusual wording or would like to include you logo, please give our sales team a ring on 0845 527 1575. We will be happy to help.
[/one_half_last]
Slider Signs / Occupied Signs
[one_half]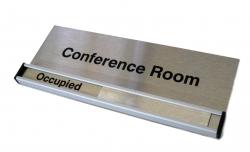 [/one_half][one_half_last]Slider Signs are a simple way of letting everyone know if a room is occupied or not.
We can supply them for single rooms or as larger slider boards, to show availability across a number of rooms.
We also offer a customisation service.  If you need a logo added or want to include Meeting Room names or adapt the signs for use in waiting rooms or to show who is in / out we would be happy to help.
[/one_half_last]
Cheap / Budget Meeting Room Signs
[one_half]
[/one_half][one_half_last]If you need signage on a lower budget, we have a range of simple standard signs in a number of materials.  These range from vinyl stickers to larger, rigid materials.  They are available direct from our retail site http://safetysignsupplies.co.uk  [/one_half_last]
Premium Meeting Room Signs
[one_half]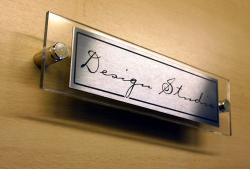 [/one_half][one_half_last]Acrylic and Stainless Steel Meeting Room and Conference Room signs are made with a marine grade Stainless Steel attached to an Acrylic backing.  They are available in a range of standard fonts or we can customise them to use your company font.[/one_half_last]
[one_half]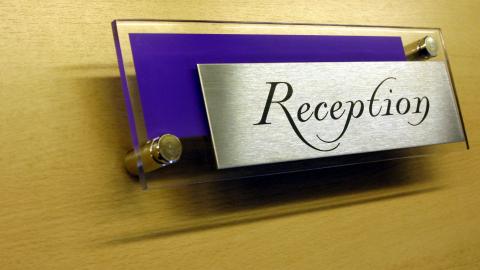 [/one_half][one_half_last]Our colour-backed signs use the same Stainless Steel and Acrylic construction, but have the addition of a coloured flash.  We can match your corporate colours or colour code the meeting room signs to a scheme of your choosing.  We can also add full colour prints to back the sign. If you would like a different style, please ring our sales team on 0845 527 1575. [/one_half_last]