Laser Engraving
Using our state of the art laser engraving equipment, we are able to offer laser engraved products which we are confident will exceed your expectations.
We can engrave a wide range of products including:
Industrial engraving for control panels, labels and asset tags.
Memorial / Dedication Plaques
Business Plaques
Engraved Signs
Engraved Products including key fobs and custom product engraving
Laser Engraving Labels and Machine panel
[one_third]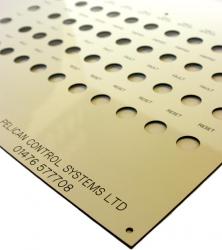 [/one_third][two_third_last]
Our strong heritage as manufacturing and design engineers mean we can provide a wide range of industrial Engraving services.   We are the main Industrial Engraving supplier for manufacturers across the UK. We are proud to work with companies like  Metron Eledyne to ensure they get what they need, on time and on budget.
[blockquote]  "Manufacturing on demand is the biggest benefit with Viking – the
product's as good as there is, but customisation is key."[/blockquote]
[/two_third_last]
Engraved Plaques
Memorial  /  Dedication plaques
[one_half]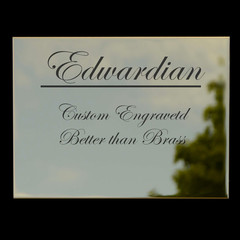 [/one_half][one_half_last]
We supply engraved  dedication plaques, in bulk,  for companies like the Woodland Trust.  We can also produce custom engraved plaques for benches, plinths or tree dedications. Please call us on email us at  info@vikingsigns.co.uk for a quote.
[/one_half_last]
Business  Plaques and Office Signs
[one_half]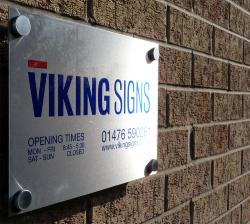 [/one_half][one_half_last]
Our range of engraved plaques for business and office signs can help to promote the right image to your customers and visitors alike.  Please give us a ring to get a quote for a single sign or find out how we could become your regular supplier.
We can laser engrave signs from low cost functional signs on materials like Traffolyte through to premium materials like reverse engraved Acrylic and Stainless Steel. As a full service sign manufacturer we can also print onto metal and metal-effect plastic as a low cost alternative to laser engraved signs.
[/one_half_last]
Engraved Products
[one_half]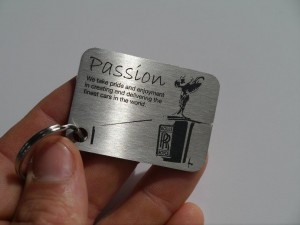 [/one_half][one_half_last]We are able to Engrave directly onto metal, plastic or wooden products.  We provide a commercial service engraving pictures or logos on to Laptops or Iphones in bulk. A great solution for corporate branding or asset identification.  We produce high quality stainless steel promotional materials like these engraved key fobs for Rolls Royce.  If you are manufacturer or a retailer please get in contact with us to find out how we could help.
[/one_half_last]
Engraving Materials
Engraved Wood
Our Laser Engraving technology means that we can engrave onto a wide variety of materials.  We can engrave onto wood, for example engraving bamboo or walnut iphone cases or produce Engraved wooden plaques.
Laser Engraved Metal
We can engrave onto stainless steel, and offer an effective alternative of ano-printing onto aluminium.  Brass plaques remain very popular, but can require a lot of maintenance to keep looking their best. We have developed a process to solve this problem.  Our Better than brass plaques look just like brass, but they won't tarnish or corrode.  You can now have the classic brass plaque look, but without the need for daily cleaning.
Engraving on Plastics Or Acrylic
We regularly engrave onto coloured rigid laminate (often referred to by the brand name Traffolyte) for functional, clear, low cost engraved signs.
We can also produce stunning signs on reverse-engraved clear Acrylic (often known by the brand name Perspex).  This provides a beautiful, contemporary style sign.  With LED off-sets these signs can be brought to life as the engraved lines refract the light and glow brightly, producing a classy, contemporary effect.
Engraving Leather
We can engrave onto leather including large leather collars, Ipad or phone cases or premium leather bound books or journals.
Please call us for quote or email us at info@vikingsigns.co.uk