General Sign Products
Viking Signs creates quality signs of all types. Every sign is different, so we can only show you a small selection of the thousands of swing signs and a frames, point of sale and clip frame signs, directory boards, banners, shop facias and much more that we've made for our many satisfied customers.


[autonav display="list,title" crop="1″]
Viking Signs has the expertise and the equipment to provide a complete range of signs foryour business. Using computer based design tools, we can incorporate logos, images and a multitude of design styles into impressive signs of any size, for any situation. We can help you to present the image your business needs, to make the sales you're looking for…
Take a few minutes to take a tour if you want to understand more about how we do this.
Here's a few examples of our products:
Bespoke LED Illuminated Sign
This high impact LED illuminated sign was designed and manufactured by us for a London based venue. It uses a laser cut acrylic lightpipe system and a laser cut marine grade stainless steel face panel. Also constructed on site by us is a covered tunnel protecting the sign and increasing the impact of the sign.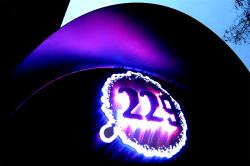 Custom office door signs
We produce a number of standard door signs, available to purchase online from our sister division safetysignsupplies, but as we manufacture all of these inhouse – we can make custom versions to order. Our main product range is in laser engraved stainless steel, but other materials such as acrylic are also used for special signs and customer requirements. Please contact us to discuss your specific requirements.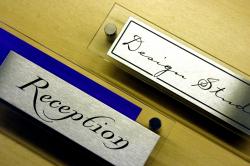 Pavement and Swing Signs
A surefire way of drawing extra customers to your business is a pavement sign or swing sign.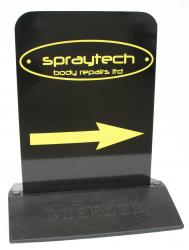 Engraved Machine & Switch Panels
As a full service engraver, we are able to provide a range of engraved machine panels and labels in rigid laminates (Traffolyte) or laser laminate materials.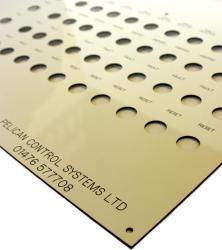 Digitally printed full colour signage
Our large format digital printing facilities allow us to offer full colour digitally printed signs of almost any size, with or with out protective over lamination.