We started typing "Lincolnshire is" into Google and these are the suggestions we got: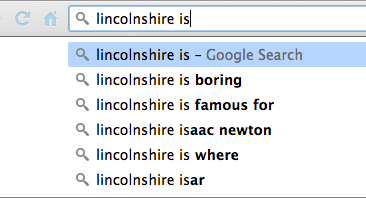 We are proud to be a Lincolnshire business and many of us have moved because, well we rather like it here.
So here are some of the things that mean Lincolnshire is anything but boring:
164 Great attractions
Trip Advisor lists 164 things to do in Lincolnshire.
The top 10 are:
Anywhere that can muster up a bubble car museum, parrots and a whole range of historical sites can't be boring.
Events
Check out what events are on at the Newark Showground:

Eating & Drinking
There are so many great pubs in Lincolnshire.
Here are some from the Good Pub guide:
We Love Stoke Rochford Hall for fine dining:
Adrenaline Rush
If you fancy doing something a bit more adventurous there is always Joyz Of Grind. Pop in and say hi to us on the way, we live just next door.
If you have some more suggestions, then please tweet us at @vikingsigns and we will add them to this page.